| | |
| --- | --- |
| | SKS closes first round of private investment from Vinod Khosla, Founding CEO, Sun Microsystems, Ravi Reddy, Chairman & CEO, Quest Industries, Sandeep Tungare, Chairman & CEO, Vistaar Technologies, Unitus (www.unitus.com) and Small Industries Development Bank of India (SIDBI, www.sidbi.com) |
| | SKS receives Grameen Foundation USA's Excellence Award for 2005. |
| | SKS hosts Rahul Gandhi for a private visit with SKS borrowers and field staff. |
| | SKS hosts microfinance accelerator, Unitus (www.unitus.com) along with 25 of their partners for their annual Partner Expedition. Click here to see the photos. |
| | SKS cited in recent The Economist survey on microfinance, "The hidden wealth of the poor", by Tom Easton. |
| | SKS Founder and CEO, Vikram Akula, speaks at UN's Year of Microcredit Forum in New York. |
| | SKS joins MicroFinance Network (www.mfnetwork.org). Click here for full details. |
| | SKS completes transformation to a Non Banking Finance Company (NBFC) regulated by the Reserve Bank of India (RBI). |
| | SKS rolls out operations in four new states - Karnataka, Maharashtra, Orissa and Madhya Pradesh. |

---
Name: Suvarna
Age: 32
Husband: Narayana
Children: 2 daughters
Hometown: Nandi Kandi
Date of Joining: March 23, 2002
Current Loan: IGL US$233 (Rs. 10,000)
Loan History: 4 loans (2 IGL and 2 MTL), US$535 (Rs. 23,000)
Business: Grocery Store Owner
As a child, Suvarna enjoyed attending school but, due to the financial
burden of school fees, her parents stopped her studies in sixth grade
and had her marry Narayana. After they were married, Suvarna and
Narayana struggled to earn enough to support themselves and their
daughters. Suvarna stitched clothes and earned US$0.93 (RS 40) per
day on the days that she had customers. Her husband operated an
unsuccessful grocery store that provided them with US$0.45 (RS 20)
per day. Their family barely survived. Suvarna's older daughters married
at a young age and did not complete school.
In 2002, Suvarna joined the SKS center in her village with hopes of
turning her family's life around. She did not want her younger
daughter's life to follow the same path as her life. She invested
her first loan of US$163 (Rs. 7,000) in the family grocery store by
purchasing new stock for the store, which helped their business prosper.
With a second loan of US$70 (Rs. 3,000), they were able to further
diversify their stock and increase their profits. This increase in profits
made it possible for them to buy a refrigerator to store soft drinks and
other cold items. This made their store very popular among villagers.
Suvarna continued to take out more loans to expand their business
and they now have one of the most successful businesses in her village.
Suvarna and Narayana have invested a large portion of their profits in
their youngest daughter's education. She is now studying in seventh
grade and Suvarna's hope is that she continues to study and becomes
an engineer. She does not want the financial difficulties that prevented
her from attending school to stop her daughter from continuing her
education. Suvarna works hard at making her grocery store a success
in order to provide her daughter with the schooling she was denied.
Suvarna is grateful to SKS for helping her in her time of need by lending
her money without any collateral. She says the support that SKS
provides her and her business has created a better future for her family.
---


For inquiries please contact Jennifer Leonard ([email protected])
It brings me great joy to announce that as of September 1, 2005, I have returned to SKS Microfinance full-time as CEO. Over the last year and a half, SKS has experienced unbelievable growth under the guidance of acting CEO, Sitaram Rao, and I would like to personally thank him for his leadership and vision during this period. I look forward to building on the momentum in the coming months in what promises to be a pivotal time for SKS.

Over the last 12 months, SKS has grown by 300% and is currently reaching 130,000 poor families in India. We are very proud of this tremendous feat, but with 400mil poor people in India we are just starting to scratch the surface. Our focus now is on leveraging what we have built over the last eight years to reach our goal of 1mil members by 2010.
With recent investments of over $2mil and innovative growth projects with VISA International and CGAP, I am confident that we are well positioned to reach this goal and not only shape the future of SKS but of the global microfinance industry. Iím extremely excited to be back.

- Vikram Akula, Founder & CEO
---
››

Total Clients - 133,046
››

Total Outstanding - $13,460,613
››

Total Disbursed - $37,741,059
››

Portfolio At Risk - 2.5%
*As of October 31, 2005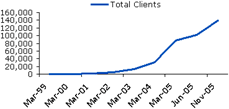 ---
››

Premier Forum de la Microfinance, Nov. 30th - Dec. 2, Marrakech, Morocco
››

World Bank Regional Microfinance Conference, Dec. 5th - 6th, Delhi, India
›› Deutsche Bank's Microfinance Leader's Meeting, Dec. 5th - 6th, Berlin, Germany
---

As we prepare for rapid growth this coming year, SKS is seeking experienced, energetic and dedicated individuals for the following positions. If you know someone that might be a good fit please contact us at

[email protected]

.

›› VP Finance
››
VP Human Resources
›› VP Technology
›› VP Operations